is a dietary guidance program recommended by the Chinese Nutrition Society for Chinese people. It is mentioned in the dietary guidelines for Chinese residents that healthy adults should eat 500 grams of fresh vegetables every day, and more than 200 grams of green vegetables are recommended. Often eat dark green vegetables are cruciferous vegetables, such as rape, Guangdong cabbage, cabbage, mustard, broccoli and so on. These cruciferous vegetables have a common characteristic, that is, they have certain antioxidant and anti-cancer effects. Glucose isothiocyanate, vitamin C and vitamin E are helpful to prevent nutritional metabolic chronic diseases. Among the dark green vegetables, Chinese kale is my favorite. Although it has been known by northern friends for more than ten years, it is still quickly accepted by all.
and
Chinese kale is a representative of dark green vegetables. It is not only strong green, but also crisp and tender. The dark green of Chinese kale is rich in chlorophyll. The effect of chlorophyll on human body can not be underestimated. It can help the liver to remove toxins, has certain anti radiation and anti-oxidation effects, and each chlorophyll molecule contains magnesium, which can promote muscle activity. Like calcium and phosphorus, it is a necessary mineral in the process of bone repair and growth. Under the dark green makeup of Chinese kale, there are more lutein and carotene. These fat soluble vitamins can help us protect epithelial cells, protect liver, and even prevent and alleviate cataract and macular lesions. In addition to lutein and carotene, there are also rich in fat soluble vitamin E, vitamin K and water-soluble vitamin C. Vitamin E is antioxidant, help cholesterol emulsification, soften blood vessels, protect skin nutrients, but also has an important role in promoting female fertility, so it is also known as tocopherol. The content of vitamin K in dark green vegetables is more, which can prevent and alleviate some common bleeding diseases, such as frequent nosebleed, excessive bleeding in girls' menstrual period, bruise caused by weak capillaries and so on. In addition, vitamin K has an important role, it can increase the activity of osteoblasts, reduce the activity of osteoclasts, that is to say, it can better help the human body to make more use of the calcium absorbed in the bone!
and
of course, the nutrition of Chinese kale is not only that, but also rich in calcium, potassium and other minerals; it contains flavonoids to prevent and alleviate hyperlipidemia, hypertension and diabetes; it also contains dietary fiber to promote intestinal peristalsis, prevent intestinal cancer and control postprandial glycemic index. But, this mustard is rich in nutrition, if it is not well done, it is not delicious! The common eating methods of
and
Chinese Kale are: boiled Chinese kale, stir fried or garlic fried Chinese kale, mushroom fried Chinese kale, beef fillet fried Chinese kale and so on. What's more, many of the Chinese Kale we often eat in restaurants have no leaves. The skin is peeled clean no matter how old or young. These practices will lose a lot of nutrients. So, what can be done to reduce the loss of nutrients, but also make the mustard flavor type complete? It's up to me! A few days ago, I recorded a TV program and recommended some new ways to eat Chinese Kale dishes. Which one is your dish?!
1, pickled ginger and Anchovy shrimp:
raw materials: 15 sea white shrimps or shrimps with tail removed skin, 8 mustard stems after leaf removal (for other uses), and 1 piece of pickled ginger.
and
seasonings: half a teaspoon of salt, half a teaspoon of chicken powder, 1 / 2 bowl of water, half a teaspoon of pepper, 10 grams of corn starch and 10 grams of uncooked flour.
and
methods: ① remove the skin and head of the sea white shrimp, remove the shrimp line, wash with water, put half of the salt, chicken powder and pepper, add 10 grams of dry starch sizing. ② Use half a bowl of water to soak the flower knife, and make it curl like shrimp. ③ Cut ginger into thin shreds and set aside. ④ The boiling water in the pot will curl the blue flying water. ⑤ Put the bottom oil in the pan, fry the prawns until half cooked, stir fry the shredded ginger, add the remaining seasoning and flour with the water soaked in Chinese kale, stir evenly, and stir fry quickly out of the pot.
comments:
this dish is green and bright red, fresh and tender shrimp, crisp and tender Chinese kale, fresh and refreshing, can keep fresh teeth and cheek. And keep the original flavor of the dishes to the maximum extent. High protein shrimp with low calorie and high fiber mustard is a perfect match!
2. Mud carp bean curd balls:
raw materials: a large number of Chinese Kale leaves, a big fist of North bean curd, half a bowl of rice, two pieces of dace meat in Douchi can, two pieces of spicy millet, and a small piece of pickled ginger.
and
seasoning: half a teaspoon of salt and chicken powder, and a tbsp of garlic chili sauce. Methods of
and
are as follows: (1) the leaves of Chinese Kale are blanched thoroughly with boiling water after cleaning, and then drained and chopped. (put a little salt and a few drops of oil in the boiling water) ② mash the tofu and put it with the rice. 3. The dace meat, the ginger and the spicy rice are cut into pieces. After mixing with other ingredients, they are seasoned and kneaded into the size of the table tennis ball. ④ Spread a layer of garlic sauce on the plate, and place the rolled vegetable dace bean curd balls on the plate.
comments:
this is a clever way to eat the leftovers of Chinese kale. The nutrition is very balanced and reasonable. There are vegetables, rice, beans and meat, which can be used as staple food or cold dish. Hehe, I don't know if it's your dish!?
3. Steamed perch with Chinese Kale in soy sauce:
raw materials: 12 pieces of whole Chinese kale, half piece of fresh Songjiang perch, 10 grams of shredded ginger and scallion, shredded red pepper and parsley.
and
seasoning: Douchi and seafood soy sauce in canned Douchi dace. Methods of
and
are as follows: ① wash the bass into half pieces (3 persons), remove the old leaves of Chinese kale, and leave more tender leaves; ② take the fish plate, spread the Chinese Kale side by side, and put half a piece of fresh fish on it. Sprinkle shredded red pepper, shredded ginger, lobster sauce and the fat inside. Steam the fish in a steamer for 6-7 minutes. ③ After steaming, take out the plate, drizzle with soy sauce, sprinkle shredded green onion and coriander on the fish. (it can be done at home without hot oil.)
comments:
steamed perch and scalded Chinese Kale may often be eaten, but I think we have never tasted this combined dish. Is this your dish or not? Hehe, why don't you tryCome on! This dish is fresh, soft and tender, rich in protein, minerals and vitamins, especially fat soluble vitamins. It is a balanced dish.
and
eat fresh vegetables every day, especially dark green vegetables. In fact, many dishes have a very creative new way to eat nutrition, choose your dishes! Achieve your health!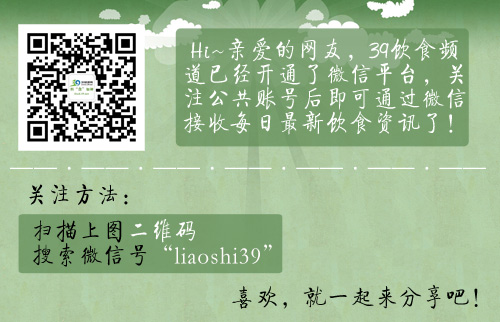 "